Audubon Aquarium of the Americas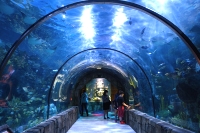 Audubon Aquarium of the Americas © Gary J. Wood
Situated on the banks of the Mississippi River is the New Orleans' state-of-the-art Audubon Aquarium, regarded as one of the best in America. Underwater tunnels allow visitors to marvel at a Caribbean Reef and a re-creation of the Gulf of Mexico, complete with sharks.
There's also a walkthrough Amazon rainforest and an exhibit displaying the inside story of swamp life. The aquarium features almost every type of aquatic creature imaginable, from jellyfish and sea horses to otters and penguins.
Audobon Aquarium's sister attractions, also run by the Audubon Institute, are the excellent New Orleans City Zoo, situated in Audubon Park further uptown, and the Audubon Insectarium, situated in the historic Custom House on Canal Street.
The zoo is a fun diversion for kids, and the insectarium, a more unusual attraction, is one of the largest freestanding insectariums in the US, housing more than 900,000 species.
Address: 1 Canal Street
Website: www.auduboninstitute.org
Telephone: (504) 565 3033
Admission: $24.95 adults, $18.95 children aged 2-12