Mardi Gras World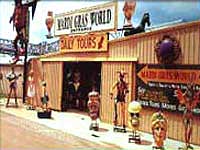 Blaine Kern's Mardi Gras World © Mardi Gras World Inc.
If you're not able to visit New Orleans during its famous annual festival, don't worry, Mardi Gras World offers the Mardi Gras experience year-round. The museum is actually the working studio of foremost carnival float designer, Blaine Kern, for whom producing floats and props for the city's annual Mardi Gras is a full-time job. Visitors can watch Kern and his team design and construct the giant sculptures of everything from cartoon characters to mythological figures and animals that will eventually parade through the streets. Tours are offered every half an hour, and include a Mardi Gras costume display, a historical video and even a free slice of traditional Mardi Gras King Cake!
Address: 1380 Port of New Orleans Place
E-mail: info@mardigrasworld.com
Website: www.mardigrasworld.com
Telephone: (504) 361 7821
Transport: A free shuttle is provided with ticket purchase, and has pick-ups at 20 convenient downtown locations.
Opening times: Daily 9:30am-5:30pm.
Admission: $19.95 adults, $12.95 children (2-11). Concessions available.