Old State Capitol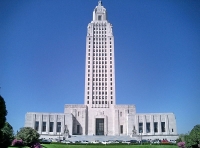 Louisiana Old State Capitol © Richard Rutter
The historic Old State Capitol building, once described by Mark Twain as being the 'ugliest thing on the Mississippi', sits on a bluff overlooking the river and today operates as a museum for political and governmental history.
The unusual building, completed in 1849, housed the Louisiana Legislature until Union forces captured the city of Baton Rouge in 1862. The legislature returned to the building in 1882 and stayed until construction ended on the new capitol in 1932.
Now fully restored, the old Capital offers interesting and interactive exhibits, with multimedia presentations detailing Louisiana's past. This attraction will appeal to those interested in the political history of Louisiana but may be a bit dry and academic for kids and teenagers.
Address: 100 North Boulevard at River Road
Website: www.louisianaoldstatecapitol.org