Chobe National Park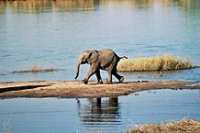 Baby Elephant © Ian Sewell
The second largest game park in Botswana, Chobe, is situated in the far north of the country and its 4,517 square miles (11,700 sq km) is divided into four distinct regions. These comprise the river frontage with floodplains and teak forest; the Savute marshes in the west; the Linyanti swamp in the north-west; and the hot, dry hinterland in between.
Chobe is especially well known for its immense elephant population, counting more than 70,000, and it is not uncommon to encounter herds in excess of a hundred members at a time. The park's north and northwest border is delineated by the Chobe River, and the river's popularity as a water source has made game viewing by boat a particularly worthwhile attraction.
There are a number of game lodges, hotels and camps in the Chobe area and at Kasane, the main town in northern Botswana, which has an airport and good road network. An added advantage at Chobe is that neighbouring Zimbabwe's main attraction, the Victoria Falls, lies just over the northern border with Botswana, merely an hour's drive away.
Website: www.chobenationalpark.co.za