Baton Rouge Nautical Center and the USS Kidd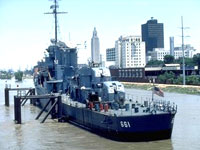 USS Kidd moored on the Mississippi © Louisiana Office of Tourism
A highlight of the Baton Rouge Nautical Center is the restored 369ft (112m) World War II Fletcher Class Destroyer, USS Kidd, which is the prime exhibit. Overnight camping experiences on the ship are offered. The center also features a huge collection of model ships, a restored World War II fighter plane, a jet fighter from the Vietnam era and a walk-through exhibit of the gun deck of Old Ironsides.
Address: 305 South River Road
E-mail: Info@usskidd.com
Website: www.usskidd.com
Telephone: (225) 342 1942
Opening times: Daily 9am-5pm. Closed Thanksgiving and Christmas Day.
Admission: Ship and museum: $8 adults (13+), $5 children (5-12), concessions available.