Rural Life Museum and Windrush Gardens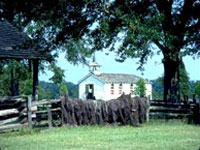 Rural Life Museum © Louisiana Office of Tourism
Situated on the Burden Research Plantation, run by the Louisiana State University, is the Rural Life Museum and Windrush Gardens. The museum features an extensive collection of tools, household utensils, furniture, vehicles and farming implements, some outdoors and others housed in some 32 historic buildings that depict the lifestyle of pre-industrial 19th-century Louisiana. Once you're done, take a stroll through the Windrush Gardens, which are spread over 25 acres and feature majestic oaks and ancient crape myrtles.
Address: LSU Burden Research Plantation, 4560 Essen Lane
E-mail: rulife1@lsu.edu
Website: rurallife.lsu.edu
Telephone: (225) 765 2437
Opening times: Daily 8:30am-5pm. Closed New Year's Day, Easter Sunday, Thanksgiving, Christmas Eve and Christmas Day.
Admission: Museum only: $9 adults, $8 children 5-11. Windrush Gardens: $3