Lafayette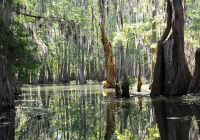 Swamp near Lafayette © Richard Weil
The city of Lafayette is the hub of the eight-parish area in the heart of Louisiana's southern Acadian region, famed for its unique Cajun and Creole heritage, and where the French language is soft on the ear and French traditions prevail.
Lafayette, to the east of Baton Rouge, lies at the intersection of Interstate 10 and Interstate 49. Known for its great food, music, and festivals, it also has historic attractions, majestic plantation homes, vibrant gardens, leisurely swamp tours and fascinating museums to entice visitors.
Authentic Cajun and Creole cuisine served up with original zydeco and Cajun music is usually top of the lists for tourists, but sites like the Acadian Cultural Center, University of Art Museum, and the Natural History Museum are all well worth visiting.
Lafayette is only a short drive away from Baton Rouge and is comfortably explored in a day. Although, there is certainly enough about to see and do to justify a weekend getaway.
Website: www.lafayettetravel.com