National Aquarium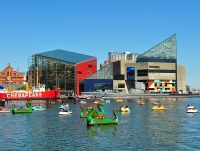 National Aquarium © AndrewHorne
The National Aquarium is Maryland's leading tourist attraction, and one of the best aquariums in the world. It was recently voted one of the top ten family attractions in the US. Here visitors can tour the tidewaters of Maryland, the Pacific coastland or a tropical rainforest without leaving Baltimore. The permanent residents include sea horses, turtles, stingrays and octopi.
The aquarium offers much more than marine life: there are several special exhibits like the Amazon Rainforest display with poison dart frogs, dwarf caiman, anacondas, sloths, colourful birds and conehead lizards, as well as plants and fish. A sea cliffs habitat features puffins and other north Atlantic sea birds, while the Coral Reefs and Open Ocean tanks are walk-through displays bringing visitors face to face with sharks and exotic fish.
In addition to the permanent exhibits, dolphins jump, wave and flip in regularly scheduled shows at the Marine Mammal Pavilion. Visitors can catch an underwater view from an atrium below the pool or watch the tricks from the stands, but be warned: the areas marked Splash Zone really are splash zones, so don't sit there unless you don't mind getting wet.
The aquarium also offers 4D Immersion Films, which are 3D movies shown with additional in-theatre sensory special effects. Films shown range from popular cartoons to documentaries, and are 15 minutes long.
Address: Pier 3, Inner Harbor, 501 East Pratt Street
Website: www.aqua.org
Telephone: (410) 576-3800
Opening times: Monday to Thursday 9am-5pm, Friday 9am-8pm, Saturday and Sunday 9am-5pm. Hours vary according to season, check the website for specific dates.
Admission: $39.95 adults, $24.95 children 3-11, concessions available. Certain shows cost extra.