Fort McHenry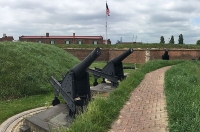 Fort McHenry © Fredlyfish4
The Fort McHenry National Monument will forever be associated with America's national anthem, written by the poet Francis Scott Key while watching the British attack Baltimore during the War of 1812.
After more than 25 hours of non-stop bombing by the British naval forces in an unsuccessful attempt to stop America gaining independence, the fort still stood with the huge American flag flying high. It was the only action the brick fort had seen in more than 100 years of guarding the water approach to Baltimore.
A visit to the fort includes a short historical film 'The Defence of Fort McHenry', and a guided tour with exhibits in the various quarters recalling the siege and the fort's Civil War service. On summer weekends military ceremonies and drills are performed, as well as a living history program simulating the daily activities during the battle. There is also a daily changing of the flag ceremony that involves about 20 people required to fold the enormous star-spangled banner. The ceremony is concluded by a short historical talk about the fort, flag and anthem.
The monument and its grounds are a national park and visits to the parklands are free. From the fort there are fine views down the Patapsco River to the Inner Harbor and towards Chesapeake Bay.
Address: 2400 East Fort Avenue
Website: www.nps.gov/fomc
Telephone: (410) 962-4290
Opening times: Fort and Visitor's Center open daily from 9am-4:45pm. Grounds open 9am-5pm. Closed Thanksgiving, Christmas, and New Year's Day.
Admission: $10, valid for seven days; free for children under 15.