Walker Art Center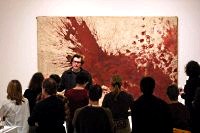 Walker Art Center © www.walkerart.org
Internationally renowned for its permanent collection of 20th century paintings, drawings, prints, photography and sculptures, the Walker Art Center is one of the country's leading contemporary art centres and is one of the most visited museums in the USA. It features works by top artists in a range of styles, utilising various multi-media installations and educational programs.
Contemporary art can also be experienced here through theatre, dance, video, music and film. Next door is the Minneapolis Sculpture Garden with creative contemporary work spread across a huge area of parkland. It is the largest urban sculpture park in the country and includes the colossal Spoonbridge and Cherry Fountain by Claes Oldenburg and Coosje van Bruggen, and Frank Gehry's Standing Glass Fish. Visitors can also cross the highway to Loring Park via the Irene Hixon Whitney Bridge, and enjoy the poetry written along the walkway.
Address: 1750 Hennepin Avenue, Minneapolis
Website: www.walkerart.org
Telephone: (612) 375-7600
Opening times: Sculpture Garden: daily 6am to midnight. Galleries: Tuesday to Sunday 11am-5pm, closes 9pm on Thursday.
Admission: $14 adults, concessions available; admission is free on the first Saturday of each month and Thursday evenings from 5pm. The Sculpture Garden is free.