Mall of America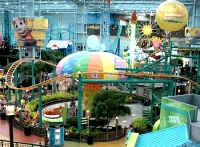 Nickelodeon Universe at the Mall of America © Flickr: Aine D
Located in the southern suburb of Bloomington, the futuristic superstructure of the Mall of America is recognised as the largest enclosed shopping and entertainment complex in the country. It welcomes more than 42 million visitors each year and is the fifth most visited attraction in the USA with world-class shopping, family entertainment, nightlife and numerous dining options. Located conveniently close to the airport, some international tours are specially arranged for holiday shopping!
There are more than 500 stores and specialty shops including the Lego Store, international department stores such as Bloomingdales, more than 70 restaurants and fast food outlets, cinemas, theatres and nightclubs, a wedding chapel, bowling alley, and a mini-golf course.
Sea Life Minnesota is a massive aquarium with touch pools featuring sharks and stingrays, and glass-enclosed tunnels with moving walkways that go right through the aquarium. The Mall of America's famous centrepiece is Nickelodeon Universe, an indoor theme park with more thirty rides and adventures for children and adults.
Address: 24th Ave S. and Killebrew Drive, Bloomington
Website: www.mallofamerica.com
Telephone: (952) 883-8800
Opening times: Mall open Monday to Saturday 10am-9.30pm, Sunday 11am-7pm. Hours for restaurants, nightclubs and other attractions may vary, as well as summer and holiday hours. Nickelodeon Universe: Monday to Thursday 10am-9.30pm, Friday and Saturday 10am-10pm, Sunday 10.30am-7.30pm. Aquarium: Monday to Thursday 10am-7pm, Friday 10am-8.00pm, Saturday 9.30am-8.00pm, Sunday 10am-6.30pm.
Admission: Admission to Nickelodeon Universe is free, but tickets must be purchased for each ride. An All Day Wristband is $34.99, valid for one day. Aquarium: $24.25 adults, $17.25 children 3-12.