Detroit Historical Museum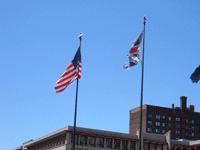 The Detroit Historical Museum in Downtown allows visitors the chance to tour the scope of the city's history, from Antoine de la Mothe Cadillac's landing on the banks of the Detroit River through the city's emergence as an industrial capital. In the museum it is possible to walk through the streets of Old Detroit and explore 19th-century shops. Visitors can also find out about Detroit's role in the 'underground railroad' that helped slaves escape from the South. The interactive Glancy Trains toy train exhibit delights young and old.
Address: Detroit's Cultural Center, 5401 Woodward Avenue
Website: www.detroithistorical.org
Telephone: (313) 833 1805
Opening times: Wednesday to Friday 9:30am-3pm, Saturday 10am-5pm, Sunday 12pm-5pm.
Admission: $6 (adults), $4 (concessions); children under 4 years free