Motown Historical Museum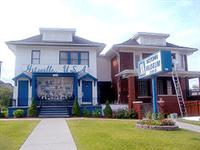 Detroit's Motown sound originated in two simple buildings on West Grand Boulevard, Downtown, at Hitsville U.S.A. Visitors can see the original control room and recording studio where stars like the Jackson Five, Diana Ross and Stevie Wonder made hit records between 1959 and 1972. The Museum also contains some costumes worn by the stars and Motown founder Berry Gordy's apartment, still as it was in the 1960s.
Address: 2648 W. Grand Boulevard
E-mail: info@motownmuseum.com
Website: www.motownmuseum.com/mtmpages
Telephone: (313) 875 2264
Opening times: Tuesday to Saturday 10am-6pm. Open Mondays in July and August.
Admission: $10 adults, $8 children under 12. Concessions available.