Corcovado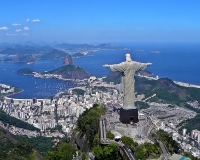 Christ the Redeemer © Artyominc
The distinctive statue of Christ the Redeemer, arms spread to welcome the world, is the symbol of Rio de Janeiro and one of the seven New Wonders of the Modern World. It rests on top of Rio de Janeiro's Corcovado Mountain, 2,330 feet (710m) above the beaches below, and is accessed via a miniature train that runs from the Cosme Vehlo District through the Atlantic rainforest to the foot of the statue. The train ride offers stunning vistas of Rio, and the view from the summit is breathtaking.
Spread out beneath the statue is the Tijuca Forest, resplendent with attractions to enchant visitors beneath the cooling canopy among natural pools and waterfalls. There is, for example, the Mayrink chapel, which features murals painted by Candido Portinari, one of Brazil's most well-known modern artists, and the Museu do Acude, housing colonial furniture and a collection of china from the East India Company.
Address: Corcovado Railroad Station. Rua Cosme Velho 513, Cosme Velho
Website: www.corcovado.com.br
Telephone: +55 21 2558 1329
Opening times: Open daily, from 8am to 7pm. Train departs every 30 minutes.
Admission: BRL 75 (adults - weekends and high season), BRL 62 (adults - low season), BRL 49 (children) for a round-trip and entry to the Christ the Redeemer Statue.