Sugar Loaf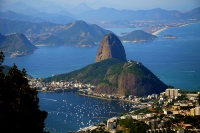 Sugar Loaf © Rodrigo Soldon 2
An iconic fixture of the Rio skyline, the Sugarloaf Mountain is known worldwide for its sweeping views of the city below. The summit of the 1,299 foot high (396m) belvedere, named Sugar Loaf because of its resemblance to the loaves of sugar used by the Portuguese colonists, can be reached by a two-stage cable car ride. The first stage takes visitors up 722 feet (220m) to the Morro da Urca, where there is a restaurant, amphitheatre, heliport and spectacular view of the Yacht Club and Botafogo Bay. The second stage ascends to the summit for a panoramic view of the city, and the whole of Copacabana beach. The Sugar Loaf cable car is a major icon of Rio's tourism and a trip up the Sugar Loaf is a must for visitors to the city.
Address: Avenue Pasteur 520, Praia Vermelha
Website: www.bondinho.com.br
Opening times: Open daily, from 8am to 7.50pm
Admission: Cable Car: BRL 76 (adults), BRL 38 (youths aged 6-21), free for children under 6.