St Maarten Zoo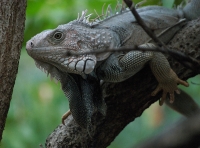 Iguana at St Maarten Zoo © Grant Hollingworth
North of Philipsburg on Pondfill Road is the St Maarten Zoo and Botanical Gardens, situated in the Madam Estate area. The zoo is home to more than 250 animals of about 60 different species, including six on the endangered list such as Bush Dogs, Golden Lion Tamarins and Scarlet Macaws. The zoo also features an interactive pirate ship-themed playground, and other equipment for kids like play cubes, swings and slides. There is a gift shop with locally-made souvenirs, toys, and a few snacks and cold drinks.
Website: www.stmaartenzoo.com
Telephone: 599 543 2030
Opening times: Daily 9am-5pm.
Admission: $10 adults, $5 children 3-11.