Marigot Open-Air Market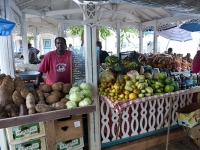 Market vendor © Upsilon Andromedae
Marigot's open-air public market takes place every Wednesday and Saturday at the base of Fort St Louis along the harbourfront, and provides a colourful spectacle for visitors, though bargains are few. Wares include home-grown produce, tropical fruits and spices, fresh fish, souvenirs, woodcarvings and a host of other goods. The pace is lively and the food well worth sampling. The market is nearby the slick West Indies Mall, which is a good place to escape to when the heat and bustle gets overwhelming.
Address: Blvd. de France
Opening times: Wednesday and Saturday 6am-1pm.