Russell C. Davis Planetarium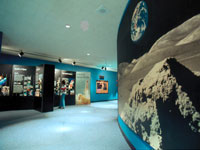 Jackson's impressive planetarium is one of the largest in the world, with a huge hemispheric wrap-around screen that presents regular Sky Shows on astronomy, astronauts and space exploration. The planetarium, situated in the downtown cultural district, also presents laser light concerts featuring the music of contemporary and classic rock and roll artists combined with the imagery of a powerful indoor laser system, and astronomy hobby courses.
Address: 201 East Pascagoula Street
E-mail: info@thedavisplanetarium.com
Website: www.thedavisplanetarium.com
Telephone: (601) 960 1552
Opening times: The Planetarium is open seven days a week (except major holidays). Times and programming schedules vary. Call the information helpline, or check the website, for current show information.
Admission: Sky show: $5.50 adults, $3 children. Laser concert and Large-format films: $6.50 adults, $4 children. Other concessions available.