Farish Street Historical District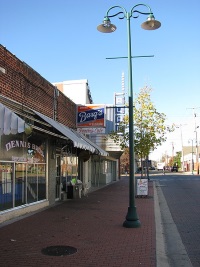 Farish Street Historical District © Natalie Maynor
The 125-acre neighbourhood bounded by Mill Street, Amite Street, Fortification Street and Jackson Street near downtown, known as Farish District, is one of the few historically black districts, built by former slaves, listed on the national register. It takes its name from Walter Farish, a freed slave who settled on the northeast corner of Davis and Farish Streets.
The district was once the centre of political, religious, economic, educational and entertainment activities for the black professionals and craftsmen who lived in the area's 700-odd buildings, most dating from between 1890 and 1930. Among the more notable buildings are 229 East Church Street, former home of Dr Sidney Redmond, wealthy and successful businessman, and the Farish Street Baptist Church.
Renovation in the district is ongoing and private home ownership is being encouraged in an effort at urban renewal. The area is being redeveloped as an entertainment district, with many theatres, live music venues, and historic landmarks like Ace Records and the Speir Phonograph Company.
Telephone: (601) 949-4000