Vicksburg National Military Park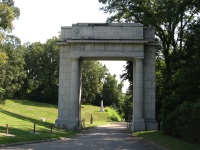 Memorial Arch at Vicksburg National Military Park © Ken Lund
The Vicksburg National Military Park commemorates one of the most decisive battles of the American Civil War: the campaign, siege and defence of the city of Vicksburg, 44 miles (71km) west of Jackson in Mississippi. Vicksburg was under siege for 47 days in 1863 as confederate forces vainly tried to defend the city high on the bluff guarding the Mississippi River.
The battlefield at Vicksburg is in a good state of preservation and visitors can explore 1,325 historic monuments and markers, 20 miles (32km) of reconstructed trenches and earthworks, an antebellum home, 144 cannon emplacements, the restored Union gunboat, USS Cairo, and the Vicksburg National Cemetery.
While in Vicksburg don't miss a riverboat ride on the mighty Mississippi and a visit to the River City Blues Museum in Clay Street, with the largest blues collection on public display in the world.
Address: 3201 Clay Street, Vicksburg, MS
Website: www.nps.gov/vick/index.htm
Telephone: Visitor Centre: (601) 636 0583
Opening times: The Visitor Centre: daily 8am-5pm.
Admission: $8 per vehicle (valid for 7 days), or $4 per person per day.