Elvis Presley Birthplace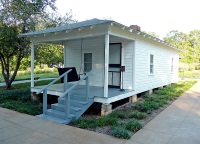 Birthplace of Elvis Presley © Markuskun
The King of Rock and Roll, Elvis Presley, was born in Tupelo, northern Mississippi in 1935 in a humble home where he began his meteoric rise to fame. The simple two-room house where Elvis drew his first breath is now contained in a park, which has become a place of pilgrimage for thousands of fans every day.
The city of Tupelo has other attractions too to make a trip north of Jackson worthwhile. Elvis Presley Park includes not only the period-furnished house, but also a museum, memorial chapel, gift shop and a life-size statue of the legend, aged 13, as he was when he moved from Tupelo to Memphis, Tennessee, with his family.
Address: 306 Elvis Presley Drive, Tupelo
Website: www.elvispresleybirthplace.com
Telephone: (662) 841-1245
Opening times: Monday to Saturday 9am-5:30pm, Sunday 1pm-5pm.