Natchez Historic Houses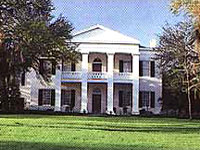 Monmouth House ©
The most intact antebellum estate in the United States is the magnificent Melrose, owned and operated by the National Park Service in its grounds in the Natchez National Historical Park.
Melrose was built in 1849 and still features its original hand-painted canvas flooring. The house is open daily with tours on the hour.
The gracious Monmouth, built in 1818 at 36 Melrose Avenue, was the home of John Quitman, twice governor of Mississippi as well as US senator and congressman. The house and its striking formal garden is open daily. Longwood in Lower Woodville Road was built around 1860 and is the largest and most elaborate octagonal house in the United States.
Dunleith, dating from 1856, is the only house in Mississippi completely encircled by a colossal colonnade. It is sited at 84 Homochitto Street, on top of a rise on the edge of a 40-acre park.
Numerous other houses are open to the public, and make popular venues for weddings.
Address: Visitor's Centre: 640 South Canal Street, Natchez
Website: www.natchezpilgrimage.com
Telephone: Natchez Pilgrimage Tours: (800) 647-6742
Admission: Tour prices vary $15-60 according to package.