Grand Village of the Natchez Indians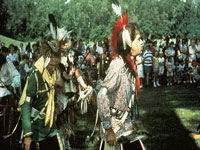 Grand Village of the Natchez Indians © Mississippi Development Authority/Division of Tourism
The Grand Village was the main ceremonial centre of the Natchez Indians, who inhabited southwest Mississippi between 700 and 1730. Their culture reached a peak in the mid-1500s, when French explorers found the Grand Village and began to settle in the area. Eventually the Natchez were forced to abandon their land.
The 128-acre site of the Grand Village is today managed by the Mississippi Department of Archives and History, who have excavated and rebuilt two of the ceremonial mounds at the site. Entry to the village is gained through Jefferson Davis Boulevard within the Natchez city limits. The site features a museum, a reconstructed Natchez Indian house, three ceremonial mounds (Great Sun's Mound, Temple Mound and the Abandoned Mound), a nature trail and a visitor's centre. Tours are available, however advance booking is required.
Address: 400 Jefferson Davis Boulevard
Website: mdah.state.ms.us/hprop/gvni.html
Telephone: (601) 446-6502
Opening times: Monday to Saturday 9am-5pm; Sunday 1:30pm-5pm.
Admission: Free