Natchez Churches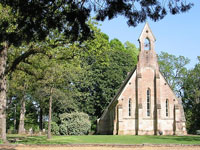 Church chapel © NatalieMaynor
Natchez features a collection of architecturally valuable historic churches of various denominations, all located in the central city area. Among them is St Mary's in South Union Street, the oldest Catholic building in Mississippi, built in Gothic Revival style back in 1840.
The Trinity Episcopal Church in South Commerce Street is the oldest church in Natchez, having been built in 1822 but remodelled in 1838. The interior of this church features two rare stained-glass windows designed and installed by the renowned Louis Comfort Tiffany.
Also notable is the First Presbyterian church in South Pearl Street, built in the Federal Style in 1828. A Romanesque chapel was added to the rear in 1901. The chapel now houses an unusual collection of historic photographs telling the story of Natchez.