Freedom Trail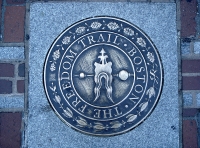 Freedom Trail © dancingnomad3
The two and a half mile (4km) Freedom Trail follows a line of red bricks, or a painted red line on the pavement, linking 16 historic sights associated with the early struggle for freedom from British control and the events leading up to the revolution.
Markers identify the stops and provide information from downtown to the North End to Charlestown and Bunker Hill Monument. Sights along the way include Paul Revere House, Boston's oldest surviving house that was home to the famous revolutionary.
The Old North Church is also nearby, where two lanterns were hung in the belfry to warn the revolutionaries of the British movements while Revere went on his famous horse ride to warn of imminent British attack.
The elegant Old State House was the seat of British colonial government and where the Declaration of Independence was read in 1776. There is a museum of Boston history inside. At the Old South Meeting House, Samuel Adams addressed the revolutionaries in the significant meeting prior to the Boston Tea Party, and a circle of cobblestones marks the site of the Boston Massacre.
In Charlestown, the USS Constitution, also known as 'Old Ironsides', is the oldest warship still afloat. Its name was earned after the sinking of the British frigate, HMS Guerriere, during the war of 1812. Bunker Hill Monument is the site of the first formal battle of the American Revolution, fought in 1775.
Also along the trail is the beautiful white steeple of Park Street Church, the site of several important anti-slavery speeches, and the Old Granary Burying Ground, where a number of revolutionaries are buried.
Add to that the Quincy Market and Faneuil Hall that once was the meeting place for revolutionaries as well as a bustling marketplace. Although a complete self-guided trail, the National Park Service also conducts free tours with guides in historic costumes that cover some of the trail's highlights.
Address: The trail starts from the Visitor Information Center on Boston Common
Website: www.thefreedomtrail.org