Boston Tea Party Ship and Museum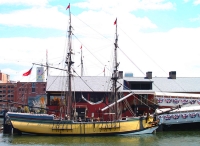 Boston Tea Party Ship and Museum © Martyn Smith
Moored to the bridge is the Beaver II, known as the Boston Tea Party Ship and Museum, and one of the three ships stormed by patriots in 1773 as an act of rebellion against British rule and in particular against the new tax laws imposed on tea. A group of revolutionaries disguised as Mohawk Indians burst from the South Meeting House and boarded the ships that were loaded with tea. They emptied the crate contents into the harbour, an event that became known as the Boston Tea Party. The Beaver II is an exact replica of the original Beaver I and visitors can learn about the event on board the ship. The museum has recently been renovated and improved and generally receives rave reviews from visitors of all ages; in fact, it has recently been voted 'Best Family Attraction in Boston', among a host of other accolades.
Address: Congress Street Bridge
Website: www.bostonteapartyship.com
Transport: South Station subway
Opening times: Tours run between 10am and 5pm during peak season, with slightly reduced hours in winter.
Admission: $25 (adults), $15 (children). Discounts available for booking online.