Harvard University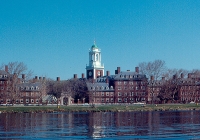 Harvard University © Roger W
Established in 1636, Harvard University is the oldest in the country and one of the most prestigious institutions of higher learning in the USA and indeed the world. It is famous for its brilliant faculties, which have produced economists, biologists, prize-winning poets, and famous graduates like President John F. Kennedy. It is perhaps equally well known for its famous dropouts, such as actor Matt Damon who left in second year to write the Oscar-winning film Good Will Hunting, and businessman Bill Gates who left to start up a small software business, also dropping out in his second year.
The focal point of the university is Harvard Yard, a courtyard surrounded by ivy-covered colonial buildings from the 18th century until the present that was named for John Harvard, a graduate of Cambridge University in Britain, who died leaving the college half his estate and his entire library. The shoe of his statue is rubbed for good luck. Harvard also has some outstanding museums, including the Harvard Art Museums and the Museum of Natural History. The Fogg Art Museum is the most famous art museum with a huge collection covering works from the European Renaissance period to the modern day, including works by Renoir, Monet, Van Gogh and Klee. The Bush-Reisinger and Arthur Sackler Museums are included in the same ticket. The Natural History Museum is renowned for its display of hand-blown glass flowers.
Website: www.harvard.edu
Transport: The subway Red Line to Harvard Square from Boston Common's Park Street Station
Admission: There are free student-led campus tours available. Museum tickets vary, see website for details.