Martha's Vineyard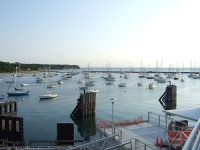 Martha\'s Vineyard Harbour © bowena
Believed to have been named by mariner Bartholomew Gosnold for his daughter, Martha, with the 'vineyard' referring to the abundance of wild grapes growing on the island, Martha's Vineyard is a favourite summer destination for New England's wealthy elite. Tourism is the main economy, boosted by celebrity regulars like actress Sharon Stone and the Clinton family.
It is far less developed than Cape Cod, but more sophisticated than neighbouring Nantucket Island, and simple pleasures such as the weekly farmers' market, miles of coastal pathways to explore and an agricultural fair blend with the concerts, outdoor theatres, galleries and nightlife that keeps the towns buzzing throughout the summer. The six towns have distinct characters, from the upmarket Vineyard Haven that is the island's main port, receiving ferries as well as private yachts, to the fun centre of Oak Bluffs where the old Flying Horses Carousel, pizza take-aways and ice-cream parlours cater to the young and carefree.
The graceful Edgartown has quaint inns, historic whaling captains' homes and stylish boutiques lining the narrow streets, and is the island's oldest settlement. The pace is decidedly laid-back although the hassles of summer crowds, traffic and high prices have led to more visitors discovering the appeal of the off-season, with peaceful roads, friendly folk and private beaches that are opened to the public.