Nantucket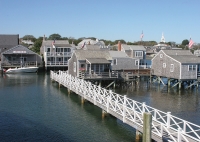 Nantucket © Massachusetts Office of Travel & Tourism
Thirty miles (48km) off the coast of Cape Cod, the island of Nantucket is smaller and more remote than Martha's Vineyard, and is an escape from city stress and the chaos of everyday life. Miles of unspoilt beaches, rolling wind-swept moors, solitary windmills and lighthouses, church steeples, quaint cottages and peaceful lanes are the attractions on the island. Its only town, Nantucket Town, was once the whaling capital of the world and has retained much of its 17th to 19th-century character with historic mansions, old fashioned street lamps and cosy inns lining the cobblestone streets.
The rest of the island is mainly residential except for a few villages, and there is not a billboard, fast-food franchise or flashing neon light to be seen anywhere. Nantucket has long appealed to wealthy visitors and has grown to a summer vacation retreat for nearly 50,000 tourists, and despite the increasing amount of luxury houses going up, more than 36 percent of the land is protected from development; the island still feels like a romantic paradise.
The excellent Whaling Museum is an added attraction to the beaches, strolling and biking, and window-shopping at the exclusive boutiques. July and August are the most popular months and the busiest times, and although off-season has its charms the island is often covered in thick fog at this time.