American International Rattlesnake Museum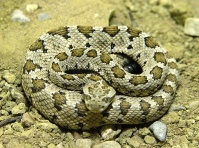 American International Rattlesnake Museum © Blueag9
Albuquerque's Rattlesnake Museum is an exciting and educational experience. Billed as an animal conservation museum, the establishment is dedicated to displaying how rattlesnakes influence our lives. Exhibits include artefacts, memorabilia, and the largest collection of live rattlesnakes in the world. The snakes, gathered from North, Central and South America, are kept in specially recreated habitats.
Address: 202 San Felipe NW
Website: www.rattlesnakes.com
Telephone: (505) 242 6569
Opening times: June to August: Monday to Saturday 10am-6pm, Sunday 1pm-5pm. September to May: Monday to Friday 11:30am-5:30pm, Saturday 10am-6pm, Sunday 1pm-5pm.
Admission: $6 adults, $4 children. Other concessions available.