New Mexico Museum of Natural History and Science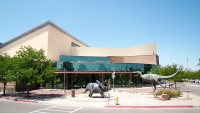 New Mexico Museum of Natural History and Science © Asis Carlos
The exciting Museum of Natural History takes visitors on a trip through 12 billion years, from the formation of the universe up to the present day. From the earth's beginnings exhibits, displays, and recreated scenes take you through an erupting volcano, an ice-age cave, an aquarium, the dinosaur age, and a fossil centre, giant-screen theatre, planetarium and a naturalist centre, to name just a few of the educational entertainments offered.
Address: 1801 Mountain Road North West
Website: www.nmnaturalhistory.org
Telephone: +1 505 841 2800
Opening times: Daily 9am-5pm. Closed Thanksgiving, Christmas, and New Year's Day.
Admission: Museum, Planetarium (each): $8 adults, $5 children. DynaTheatre: $7 adults, $5 children.