Albuquerque Museum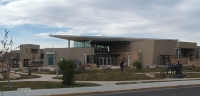 The Albuquerque Museum © PerryPlanet
The Albuquerque Museum, on the edge of the city's Old Town, explores New Mexico's past using the largest collection of Spanish colonial artefacts in the United States. The museum also pays homage to the Vaqueros, the original cowboys who rode the range in New Mexico in the 16th century.
Exhibits like Spanish armour and swords mingle with a recreated 18th-century adobe house compound. There are also hands-on experiences to try like spinning wool, and a theatre where films about the city are shown regularly. The museum provides a walking tour of the Old Town area departing at 11am each day except Monday during spring, summer and fall.
Address: 2000 Mountain Road
Website: www.cabq.gov/museum
Telephone: (505) 243-7255
Opening times: Tuesday to Sunday 9am-5pm; closed holidays.
Admission: $4 adults, $1 children 4-12. Free on the first Wednesday and third Thursday of every month, and until 1pm on Sundays and after 2pm on Saturdays.