Museum of International Folk Art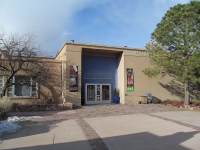 Museum of International Folk Art © John Phelan
The most important and comprehensive collection of cross-cultural folk art in the world is housed in the Santa Fe Museum of International Folk Art, about two miles (3km) southeast of the city's central Plaza on the old Sante Fe Trail.
Fascinating for tourists, and a treasure trove for researchers, scholars, and contemporary artisans, the collection of the museum runs to about 125,000 pieces, divided into categories. Of particular note are the Spanish Colonial collection, the south-western Hispanic Art collection of 20th century works, and collections of international textiles and costumes. There are examples of folk art from more than 100 different countries.
Address: 706 Camino Lejo, Museum Hill
Website: www.moifa.org
Telephone: (505) 476 1200
Opening times: Tuesday to Sunday 10am-5pm, closed Monday.
Admission: $12 adults, free for children under 16.