El Rancho de las Golondrinas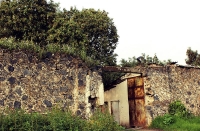 Hacienda, Santa Fe © Diana Marín
The 'Ranch of the Swallows' (El Rancho de las Golondrinas) is a living history site that was originally a real ranch, founded in the early 1700s, today offering an entertaining and educational attraction about 15 miles (24km) south-east of Santa Fe's central Plaza.
The ranch was once the last stopping place on the thousand-mile (1,609km) El Camino Real (Royal Road) between Mexico City and Santa Fe. It has been fully restored as a living village with costumed villagers portraying life in early New Mexico.
The first weekend in June brings the Spring Festival, and the first weekend in October is devoted to a Harvest Festival, which are highlights on the ranch calendar. Other special events include a Rennaissance Festival and Wine Festival.
Every day, however, visitors can explore the hacienda, village store, schoolhouse, chapels, kitchens and other buildings on the ranch, pet farm animals and watch operations in the working molasses mill, blacksmith shop, shearing and weaving rooms, winery and so on.
Address: 334 Los Pinos Road
Website: www.golondrinas.org
Telephone: (505) 471-2261
Opening times: Wednesday to Sunday 10am-4pm (June to September). Tours can be organised from Monday to Friday by prior arrangement only from April to October.
Admission: $6 adults, children under 12 are free. Concessions available.