Blue Ridge Parkway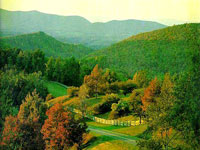 Designed as a scenic drive, the Blue Ridge Parkway is a 469-mile (755km) road connecting the Shenandoah National Park in Virginia and the Great Smoky Mountains National Park on the North Carolina-Tennessee border. Running through the Southern Appalachians, most of the roadway follows the spine of the Blue Ridge Range providing stunning scenery and magnificent vistas of distant mountain peaks, twisting through mountainous country that would otherwise be inaccessible. It was begun in 1935 to link the parks and also to provide employment during the Great Depression, and today the parkway attracts more than 20 million visitors annually. Its main attraction is the endless dramatic viewpoints overlooking forested mountains and valleys, and the rich autumn colours that blaze in October that are the highlight of the year, drawing crowds of motorists. The parkway's highest elevation of 6,047ft (1,843m) at Richland Balsam Overlook has magnificent views. The road provides access to many hiking trails, including a section of the Appalachian Trail that follows the parkway from Mile 0 to Mile 103, as well as unusual rock formations, impressive waterfalls, wild flowers, lakes, and camping and picnic sites. Along the way are visitor centres, food and modern lodgings nestled in striking mountain scenery.
Website: www.nps.gov/blri
Telephone: (828) 298 0398 or (828) 271 4779
Transport: As no commercial traffic is permitted, private transport is essential. The road is marked every mile beginning at Shenandoah National Park in Virginia (Mile 0) and ending at Great Smoky Mountain National Park (Mile 469)
Opening times: The Folk Art Center is the Parkway's only year-round visitor centre at MP 382 in Asheville. During extreme weather conditions sections of the road may be closed (daily updates available on the park information line +1 828 298 0398), but campgrounds, visitor centres and picnic areas are generally opened from May to October.
Admission: Free