Great Smoky Mountains National Park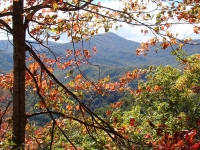 Great Smoky Mountains National Park © USchick
Straddling the border between North Carolina and Tennessee, the Great Smoky Mountains National Park boasts many natural assets that have made this one of the most visited national parks in the United States.
The Smoky Mountains are named for the blue smoke-like mist that frequently hovers in the air, caused by the natural oils and water vapour released by the plants. The mountains are thought to be some of the oldest on the planet.
An unparalleled diversity of wildflowers, plants, and trees showers the mountainsides, and the park is renowned for its multitude of birds, fish, and mammals, particularly black bears. Within its vast wilderness are streams, rivers and waterfalls, acres of virgin forest, and miles of hiking paths.
The Appalachian Trail runs along the crest of the mountains through the park, with remnants of Southern Appalachian mountain culture found in numerous historic buildings around the park, many of them found isolated in the mountain valley of Cades Cove, featuring both cultural history and recreational opportunities.
The land was once sacred to the Cherokee who were brutally removed from their ancestral home in 1838 to Oklahoma along the Trail of Tears. But some remained hidden in the mountains and the Quall Indian Reservation later formed, sharing part of the park's southern border.
On the edge of the park, the towns of Cherokee and Gatlinburg offer extensive visitor facilities. The smaller towns of Bryson City and Townsend are arguably more atmospheric, but with more limited services.
During summer and autumn, accommodation can be booked up for weeks, and roads leading to the park become jammed with traffic. The headquarters of the North Carolina side of the park is the Oconaluftee Visitor Center near Cherokee.
Website: www.nps.gov/grsm