Franklin Institute Science Museum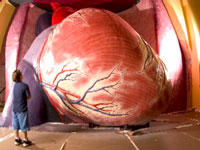 Philadelphia's most visited museum, the Franklin Institute on the Benjamin Franklin Parkway, opened in 1934 and fast became recognised for its innovative and imaginative exhibits that demonstrate the influence of science in our lives. The museum complex is divided into four sections. Firstly the Franklin National Memorial is dedicated to Benjamin Franklin, featuring a huge statue of its namesake and a collection of memorabilia associated with the great man. The second section features a collection of hands-on and interactive science and technology exhibits, ranging from a walk-through model of a heart to a lightning gallery. This section also includes the Discovery Theatre where scientific shows are given each afternoon, and a puzzle section. The basement area is the location of the Fels Planetarium. The third section consists of the Mandell Futures Center, a relatively new addition to the museum's offerings, which features eight futuristic permanent interactive exhibits covering space, earth, computers, chemistry and health. There is also an Imax theatre arena here showing a variety of films. Lastly the museum offers the CoreStates Science Park, located on the lawn between the main museum buildings. This is a garden full of high-tech play structures like a stand-on organ, maze and a high-wire bicycle. The museum also features several restaurants and a snack bar.
Address: 222 North 20th Street
E-mail: guestservices@fi.edu
Website: www.fi.edu
Telephone: (215) 448 1200
Transport: Suburban Station and 30th Street Station, both accessible via SEPTA trains, are within walking distance of the Franklin Institute
Opening times: The museum is open daily from 9.30am to 5pm. The IMAX Theater has variable hours, consult the website for more information.
Admission: $16.50 adults, $12.50 children. Prices vary for individual attractions, see website for details.