Franklin Court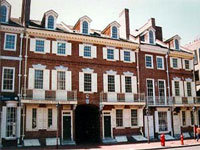 Part of the Independence National Historical Park, the area between 3rd and 4th Streets is where the home of America's most remarkable historic figure, Benjamin Franklin, once stood. The house no longer exists, but the remaining courtyard has been covered with a 54-foot high (16m) steel skeleton 'ghost structure' and provides a novel and fascinating tribute and insight into the life of Franklin, a printer, diplomat, inventor, publisher, author, statesman, postmaster, founder of the University of Pennsylvania and more. On the site visitors can see an underground museum filled with paintings, objects and inventions associated with Franklin, and use a bank of telephones listening to testimonies from famous personalities about the achievements of the great man. There is also a US Postal Service Museum and active post office on the site and in a nearby house an architectural exhibit explaining Franklin's fire-resisting building techniques can be viewed. Another building in Market Street houses an 18th-century printing office and bindery where demonstrations are given, and alongside is the restored office of the newspaper published by Franklin's grandson, Benjamin Franklin Bache.
Address: 316-322 Market Street
Website: www.nps.gov/inde
Telephone: (215) 965 2305
Opening times: Most park sites are open from 9am to 5pm.
Admission: Free, but ticket required.