Philadelphia Zoo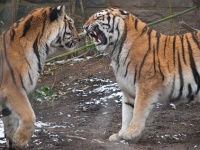 Tigers © fPat Murray
Philadelphia Zoo opened in 1874, the first of its kind in the USA. Today, it's one of the world's most renowned zoological gardens, replete with animal exhibits, award-winning education and conservation programmes, recreational opportunities, and scientific accomplishments.
More than one million visitors flock to this leading city attraction. Among special features offered are more than 1,600 rare and exotic animals and 42 acres of picturesque Victorian gardens. Highlights include the Peco Primate Reserve, an interactive exhibit featuring around 10 primate species.
The Rare Animal Conservation Center allows intimate views of some of the world's most endangered animals. The Reptile and Amphibian House has an interactive adventure path, showcasing dozens of species like the King Cobra. Additionally, there is an African animal section, and a children's petting zoo.
Website: www.philadelphiazoo.org