Doylestown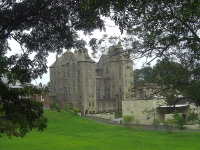 Mercer Museum, Doylestown © Jared Kofsky
About 25 miles (40km) north of Philadelphia, the city of Doylestown sits in the centre of Bucks County. Also serving as the county capital and renowned for its historic district, containing more than 1,0000 structures dating from 1851 and 1910.
This treasure-trove of architectural heritage draws hundreds of visitors to the city, named as one of a 'Dozen Distinctive Destinations' by the National Trust for Historic Preservation. The city also offers antique and handcraft shops, numerous restaurants, and vast recreational possibilities in the surrounding Bucks County countryside.
One may discover the 300-year-old Fallsington Village, go fishing and boating on the wide Delaware River, or hike scenic nature trails. Also nearby is the site where George Washington crossed the Delaware River and changed the course of the American Revolution.