Dutch Country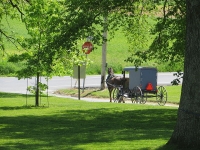 Amish Buggy, Lancaster © David Wilson
Rated as one of the most popular summer drives in America, a tour of Pennsylvania's Dutch Country is a relaxing and rewarding experience enjoyed by millions of visitors every year. Central to the area is Pennsylvania's scenic Lancaster County, just one and a half hour's drive west of Philadelphia.
The main drawcard is the fascinating lifestyle of the local Amish farming communities. They live according to age-old traditions and values without making use of any modern conveniences, even eschewing electricity and telephones.
The area abounds with interesting historic and rural attractions, including 28 picturesque covered bridges on quiet country roads, the oldest Mennonite meeting house in America, and the home of a former US president.
Many visitors opt to tour the area in a horse and buggy or hire a bicycle. A big attraction in the region is food, benefiting from the local agriculture mantra of being 'fresh from the farm'. This homestyle cooking makes its way onto the menus of many local restaurants and markets.
Be sure to try the area's famous Shoofly Pie, an open pie made with molasses and sweet crumbs. To wash down the farm fare there are wineries and breweries open for tours and tastings. Shopping for local crafts and antiques is another popular pastime.
Website: www.padutchcountry.com