Carnegie Museums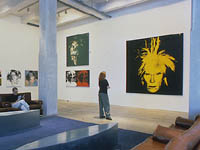 In 1895 Pittsburgh industrialist Andrew Carnegie established an Institute, which he intended to improve and educate local people. Today his ideal has been realised in the form of a collection of four museums funded by the Carnegie Institute: a Museum of Art, Natural History, a Science Center and The Andy Warhol Museum. The Carnegie Museum of Art on Forbes Avenue has a notable collection of contemporary art that includes film and video works. The adjacent Natural History Museum takes visitors time-tripping through the wonders of planet earth. The Carnegie Science Centre at Allegheny Avenue offers planetarium and laser shows and a variety of hands-on activities and exhibits for old and young. The final museum in the Carnegie bouquet is the Andy Warhol in Sandusky Street, featuring extensive permanent collections of art and archives relating to one of the most influential American artists of the 20th century.
Address: 4400 Forbes Avenue
Website: www.carnegiemuseums.org
Telephone: (412) 622 3131
Opening times: Carnegie Museum of Art and Natural History Museum: Tuesday to Saturday from 10am to 5pm (until 8pm on Thursdays), Sunday from 12pm to 5pm. Carnegie Science Center: Sunday to Friday from 10am to 5pm, Saturday from 10am to 7pm. Andy Warhol Museum: open daily, except Mondays, from 10am to 5pm (until 10pm on Fridays).
Admission: $17.95 adult, $11.95 children.