Point State Park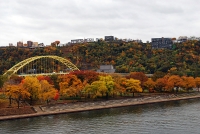 Point State Park © John Marino
Formerly a slum, Point State Park in Downtown Pittsburgh is now a recreational delight. Declared a National Historic Landmark, it played a key strategic role during the French and Indian War in the middle of the 1700s.
Paved promenades feature along the Ohio riverfront, providing dramatic views of the city with its busy waterways, scenic hillsides, and bridges. The park is naturally landscaped and enhanced by a 150-foot (46m) fountain. There's also a biking trail, outdoor amphitheatre, and an inline skating route.
The Fort Pitt Museum is housed in one of the five original bastions of the ruined fort, devoted to displaying local history. The Fort Pitt Blockhouse is the oldest authentic building in Western Pennsylvania and is also open to the public.