State Capitol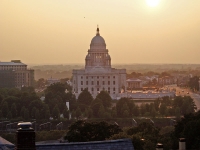 Virginia State Capitol © Anderskev
Rhode Island's magnificent white marble Georgian state house was inspired by London's St Paul's Cathedral and the US Capitol. It has the distinction of sporting one of only four self-supporting domes in the world, the others being St Peter's Basilica, the Taj Mahal, and the Minnesota State Capitol.
The beautiful building in Smith Street houses the original Rhode Island Charter of 1663 and an historic portrait of George Washington painted by Gilbert Stuart, a Rhode Island native. The Washington portrait is renowned for being the one used on the American dollar bill.
Address: 82 Smith Street
Website: sos.ri.gov/publicinfo/tours/
Telephone: (401) 222 3983
Opening times: Guided tours of the capitol are by appointment only, and operate from Monday to Friday, on the hour every hour from 9am (last tour at 2pm). It's open to the public Monday to Friday between 8.30am and 4.30pm, except holidays. Consult the website to schedule a tour.
Admission: Tours are free of charge.