John Brown House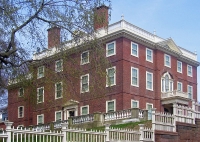 John Brown House in Providence © Daniel Case
The three-storey mansion on Power Street, designed by Joseph Brown for his brother John, in 1786, was once described by John Quincy Adams as 'the most magnificent and elegant private mansion that I have ever seen on this continent'.
Indeed the formal Georgian style mansion is breathtaking, with its elaborate woodwork, French wallpaper and 18th-century locally made furnishings. The house also features silver and decorative oriental objects d'art, gathered by John Brown who made his fortune trading with China, as well as the slave trade.
Address: 52 Power Street, Providence
Website: www.rihs.org/museums/john-brown-house/
Telephone: (401) 273-7507
Opening times: Tour schedules vary, check the website for specific dates.
Admission: $10 adults, $6 children 7-17. Other concessions are available.