Waterplace Park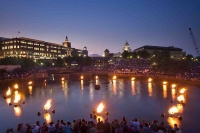 View of Providence from Waterplace Park. © WFProvidence
Providence's renovated downtown waterfront is known as Waterplace Park, a haven of romantic Venetian footbridges and cobblestone walkways that has won national and international design awards. The river walk was the centre of the shipping trade in the city's early years, sited at the junction of three rivers.
Today it draws enthusiastic crowds to the popular WaterFire events, held several times a year. This multimedia festival involves nearly 100 blazing braziers that rise from the river, seemingly to dance atop the water to the tune of rhythmic music.
WaterFire events are not held to schedule and visitors can find out from the visitor information centre in the clock tower (open daily from 10am to 4pm) when the next is to be held. Free concerts and plays are also frequently held in the Waterplace Amphitheatre.
Website: Waterfire Events: www.waterfire.org
Telephone: (401) 273 1155