Newport Mansions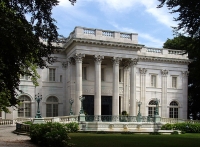 Marble House, the Bellevue Avenue Historical District © Daderot
The Bellevue Avenue Historical District in Newport, Rhode Island, is home to some of the grandest, most ostentatious mansions in the American architectural canon. Eleven in total, including Kingscote, Marble House, and The Breakers, these enormous residences are important milestones in tracing the development of America's social history and seven of the properties are now National Historic Landmarks.
Ranging in style and period, from Carpenter Gothic to Colonial, Victorian to Gilded Age, visitors to Rhode Island have the Preservation Society of Newport County to thank for their tireless work in preserving and protecting these cultural treasures.
The Society runs expert guided tours of the mansions, during which visitors are educated about each property's architecture, interior, landscape, and social history. Consistently voted as one of the Ocean State's must-see attractions, visitors to Newport should not pass up the opportunity to experience these majestic mansions first-hand.
Website: www.newportmansions.org