International Tennis Hall of Fame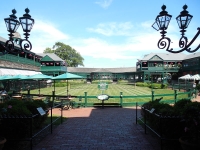 International Tennis Hall of Fame © John Phelan
Tennis fans are inspired by Newport's Tennis Hall of Fame Museum, but even those who do not follow the game will enjoy visiting this historic sporting venue, which was a premier gathering place of Newport society at the turn of the 20th century.
The building, built around a large interior piazza for lawn games, is festooned with turrets and verandas and was commissioned by wealthy publisher James Gordon Bennett as a private social and sports club that became known as the Newport Casino. Professional tennis tournaments are now hosted at the venue, and the courts are open to the public for play by reservation.
The Hall of Fame museum presents an exciting chronology of the sport's history, from its origins to today's superstars. The collection contains more than 7,000 objects, including historic tennis equipment, period clothing and a tennis library.
Address: 194 Bellevue Avenue
Website: www.tennisfame.com
Telephone: (401) 849 3990
Opening times: Daily 10am-5pm; closed on Thanksgiving and Christmas day.
Admission: $15 adults, plus $3 for an audio tour, $3 grounds pass. Free for children under 16.