Touro Synagogue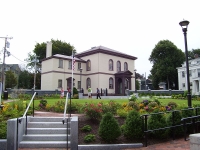 Touro Synagogue in Newport, Rhode Island © Swampyank
The oldest synagogue still standing in the United States, the Touro Street building was designed by Peter Harrison and dedicated in 1763. The synagogue has, in its time, been used as a venue for town meetings and for sessions of the state supreme court.
George Washington, who visited Newport in 1781, attended a meeting in the synagogue and afterwards sent a letter to the congregation, which has become regarded as a classical expression of religious liberty in America. A copy of the letter is displayed on the wall of the synagogue, which has been designated as a National Historical Site.
Address: 85 Touro Street
Website: www.tourosynagogue.org
Telephone: (401) 847 4794
Opening times: Open for guided tours, which run every half an hour from from 10am to 3:30pm in the summer and 12pm to 1:30pm in the winter, on Sundays only between 12pm and 2pm.
Admission: $12 adults, $8 students, children under 12 free of charge.