Museum of Newport History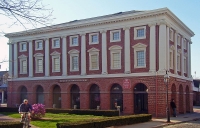 Museum of Newport History © Daniel Case
Visitors interested in history will find the Museum of Newport History an excellent place to begin a sojourn in the city. The museum offers a comprehensive overview utilising the decorative arts, artefacts of everyday life, graphics, old photographs, and audio-visual programmes to bring the past to life.
The Newport Historical Society maintains the museum housed in a restored 1772 building in Thames Street, off Touro Street. Highlights are an interactive computer tour of Newport's historic district and a video tour of historic Bellevue Avenue presented onboard a reproduction of an 1890s omnibus.
Address: 127 Thames Street
Website: www.newporthistorical.org
Telephone: (401) 841 8770
Opening times: Daily 10am-5pm.
Admission: Suggested donation: $4 adults and $2 children over the age of 5.